Tickers
An Electronic LED Ticker display is a great way to attract attention, while communicating useful and timely information. Ticker services are completely wireless and do not require a phone line, cable or satellite dish to work! Outdoor tickers are typically built to order and are very popular with TV Stations, Newspapers and other media organizations.
Your information and scrolling Ticker updates will attract and hold your customers' attention, whether they?re passing by, waiting in line, or sitting down to discuss your products and services.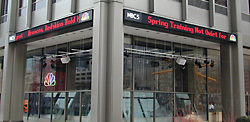 Indoors or outdoors, keep your customers attention by

sharing up-to-the-minute information on:
Financial market data
Live, accurate and real-time market data to keep your business and your clients up-to-date with the latest financial news.

Headline news
24 hour a day, seven days a week, comprehensive broadcasts of breaking news and leading stories from each news category.

Sports scores and news
Includes current odds, scoring updates and breaking news stories from the world of sports! Ticker sports service covers the NFL, NBA, NHL, MLB, NCAA Top 25 (football and basketball), PGA, LPGA, SPGA, NASCAR, Formula One and all major events such as the Olympics or World Cup.

Entertainment news
This service has all the latest news, gossip and humor from Hollywood and around the world. From the movies to fashion, literature, radio, television, music and the performing arts.
I have had many individuals comment on the fact that they look forward to read the different things we have on there each day. The weather report, the scores from games and the financial info that appears each day. When it was down once, everyone commented that it was out, a tribute to show that people do look at it all day long.
David J. Rootovich,
Branch Manager,
Manchester In-store
Service Credit Union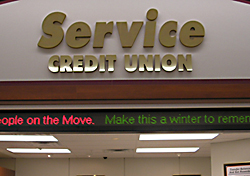 For more information, please feel free to contact us at 800-341-6397.