LEDs versus Incandescent Bulbs

GO GREEN with LED signs...an energy and cost-efficient way to attract attention.
LED displays are significantly more energy effective than signs using incandescent or florescent bulbs. Since they?re solid-state devices, they provide extremely long life. Typical life expectancy of an LED approaches 11 years (100,000 hours) of constant power-on usage. LED?s also run cooler and at a lower voltage than fluorescent and neon lamps. This translates into reduced energy consumption and lower maintenance costs for the user.
LED signs are significantly more cost-effective than signs using incandescent bulbs because LEDs are much more energy-efficient. 80 percent of the energy consumed by an incandescent bulb is wasted generating heat ? not light. Incandescent bulbs also have a much shorter "light life" requiring them to be replaced regularly, which is why so many signs with incandescent lighting require a monthly service contact ? at an additional expense ? to ensure bulbs are replaced in a timely manner.
LED signs have a much greater viewing distance, especially at night, which allows your message to reach more people for more hours of the day.
LED signs offer the advantage of long life, low maintenance, low energy usage, low voltage and enhanced fire safety.
Consider the energy use comparison below. In this example, the upgraded sign has more pixels than the existing incandescent sign ? increasing the viewing distance. An LED sign would save this customer over $1,500 a month in energy and maintenance costs. This customer could potentially lease their new LED sign and pay less for their monthly lease payment than monthly operating costs for the incandescent sign.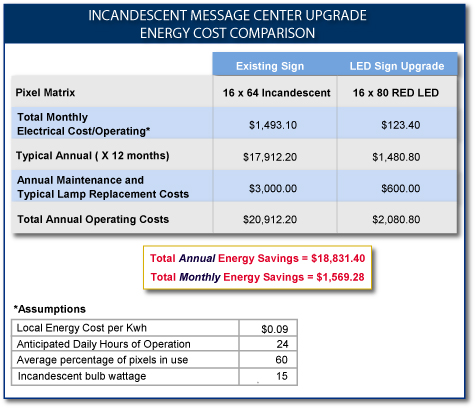 Call us at 800-341-6397 for more information about the cost effectiveness of Electronic LED signs.