Full Color Outdoor LED Signs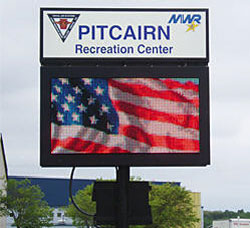 Full color LED signs provide businesses with a powerful new way to make their location stand out on a busy street. Outdoor LED signs are innovative and eye-catching and deliver advertising awareness, coverage and flexibility. Today large-format LED signs are regularly seen presenting moving video images in stadiums, shopping malls, and on road-sides.
Full Color LED signs can display graphics, animations, text, and text overlays at a frame rate of 30 FPS. Sharp, colorful moving graphics grab the attention of passing traffic while providing dynamic advertising messages.
ElectronicSigns.com can save you the learning curve and work of putting together your system.
Selected Features
Fiber optic video signal transmission up to 4000 feet

8-level automatic display brightness control

Support VESA 640x480, 800x600, 1024x768 display modes

Optional analog VGA or component video inputs

Automatic monitoring of system for problems including temperature inside of each section, accuracy of communications and many other diagnostic information.

Simple inter module connections

Multi-faced displays up to 8 faces
| | |
| --- | --- |
| 23MM Full Color | 20MM Full Color |

The new LED sign is a tremendous improvement over the incandescent version we had in the past. There is virtually no maintenance cost to consider with the new sign compared to nearly $2,000 annually with the old sign.
Our merchants voluntarily participate in a promotional fund which among other things, pays for the cost of the sign. Since installation of the new LED sign, participation in the promotional fund has increased by over 57% because people want their message on that sign. I received countless calls from businesses asking, ?How do I get my logo and message on the new sign??
Thank you very much!
Eric M. Stankiewicz
For more information, please feel free to contact us at 800-341-6397.