Window LED Signs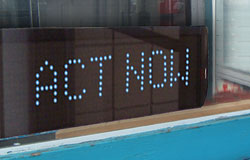 Window LED signs are brighter than standard indoor LED signs and are designed specifically to be placed inside a window. Offering indoor convenience with outdoor brightness and legibility, window LED signs can be clearly viewed through tinted windows and even in direct sunlight.
Window signs not only attract attention, they give you the opportunity to quickly and easily update your messages targeting passing traffic by time of day.
Available in Red, Amber, White, Blue or Green and in one-line, two-line or four-line sizes.
All sign prices below include the sign, mounting hardware, handheld remote keyboard, and controlling software.
Prices are based on quantities of one to four signs. Additional discounts are available for larger orders. Call 800-341-6397 for details.
Click here to order online now
One Line Options

VCI-HYW7X80
Small
Large

Cabinet Dimensions:

4"H X 26"W

4"H X 50"W

Display matrix:

7 x 80

7 x 160

Character Height:

2"

2"

# of Characters:

16

32

Viewing distance:

200 feet

200 feet

Pricing

Red & Amber

$599
$799
Blue, Green & White
$799
$999

Click here to order online now

---

Two Line Size Options

VCI-HYW16X96

Cabinet Dimensions:

6.2"H X 31.2"W

6.2"H X 40.8"W

6.2"H X 50.4"W

6.2"H X 60"W

6.2"H X 79.2"W

Display matrix:

16 x 96

16 x 128

16 x 160

16 x 192

16 x 256

Number of Lines

2
2
2
2
2

Character Height:

1.5" 4.5"

1.5" 4.5"

1.5" 4.5"

1.5" 4.5"

1.5" 4.5"

# of Characters:

16 / 2 lines

21 / 2 lines

28 / 2 lines

32 / 2 lines

42 / 2 lines

Viewing distance:

200 feet

200 feet

200 feet

200 feet

200 feet

Pricing

Red

$799
$999
$1,199
$1,299
$1,799
Amber
N/A
N/A
N/A
$1,299
$1,799
Blue, Green & White
N/A
$1,399
N/A
$1,699
$2,399

---

Four Line Size Options

VCI-HYW32X128
Small
Large

Cabinet Dimensions:

11.6"H X 41.2"W

11.6"H X 60.4"W

Display matrix:

32 x 128

32 x 192

Character Height:

2" to 4.5"

1.5" to 4.5"

Number of Characters:

up to 21 / 4 lines

up to 32 / 4 lines

Viewing distance:

200 feet

200 feet

Pricing

Red

$1,499
$1,799
Amber
$1,799
$1,899
Blue, Green & White
$2,099
$2,999