Captioning Displays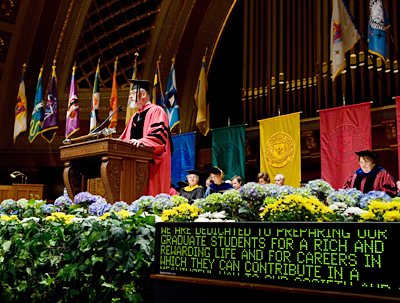 2008 Commencement at The University of Michigan
In classrooms, at performances, or for seminars or corporate presentations, simultaneous text can be shown on an LED sign, creating the opportunity to reach more people, including people with hearing loss.
Captioning in live theater is also sometimes called CART for ?Computer Assisted Realtime Translation? or for ?Communication Access Realtime Translation.?
The CART provider can either: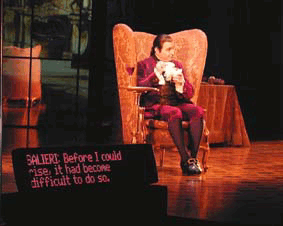 Photo by David LeShay
?Photo Courtesy of the Theatre Development Fund"
Pre-enter the script and all sound references in advance, and scroll the text up in time with the performance or

Scripts the show live (real-time) by listening and typing exactly what they hear.
Pre-entering the script works very well if you have a fixed script or a performance where the performers never vary the text.
Real-time works well when the performance is not scripted, there is improvisation, or if there is improvised dialogue or audience participation.
These LED sign options offer the ultimate in flexibility, from a laptop for a single student to a large LED sign for thousands at a live performance.
Kieron Smith in "United!", Best Red & Vanessa Ford Productions, Gateway Theatre, Chester, England.

Photo by STAGETEXT

"To Kill a Mockingbird", Clwyd Thatr Cymru production - Belgrade Theatre, Coventry, England

Photo by STAGETEXT

"A View from the Bridge", Clwyd Thatr Cymru, Mold, Wales


Photo by STAGETEXT
For more information, please feel free to contact us at 800-341-6397.