Single Color Red - 24x96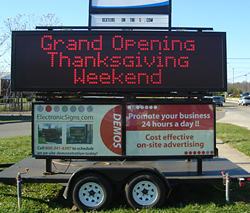 These red LED demo displays are in excellent condition and ready to roll on a double-sided trailer setup. Capability of displaying from one to four lines of text.
Recommended Viewing Distance of 100? ? 1600?
Optional: Design two custom panels for your business.
Available with or without the trailer
Overall Trailer Dimensions: Length 18? x Width 6?-6? x Height 8?-4?
Screen Size: 3?-4? H x 12? W
One Line of Text is up to (10) 33 inch Characters

Two Lines Text up to (10) 14 inch Characters

Three Lines of Text is up to (16) 10 inch Characters

Four Lines Text up to (19) 7 inch Characters

110 volt power or generator available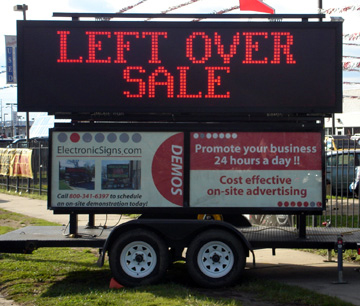 For more information, please feel free to contact us at 800-341-6397.